This post and its photos may contain affiliate links. As an Amazon associate I earn from qualifying purchases. If you make a purchase through these links, I may receive a small commission at no extra cost to you.
This is a sponsored post written by me on behalf of Chobani. All opinions are 100% mine.
When Connor gets home from school, he is starving. And I can't blame him since he eats lunch at 10:55 and doesn't get home until after 3:00.
The first thing he does when he gets home from school is drop his backpack by the dining room table and head to the kitchen for a snack. He's usually so hungry that he will grab anything. I've found him eating cereal straight out of the box, spoonfuls of peanut butter right out of the jar and stale crackers from the back of the pantry that I know tasted disgusting. He's so hungry that he will eat anything he can get his hands on.
I finally decided to set up two easy snack stations. One in the refrigerator and one in the pantry. All I did was fill each basket with snacks. As soon as I got home from the grocery store I put different items in snack bags so Connor can quickly grab what he wants.
I can't believe I didn't do this earlier. It has made snack time so much better!
One of Connor's favorite snack choices is yogurt. We recently discovered these Chobani Kids® Pouches. Of course Connor was excited about them since they have Spider-man on the package. That is how Connor picks his food – by what is on the package. I'm sure many of you can relate to that. But I'm not complaining. If that's all it takes to get him to eat healthy, I'm happy.
Our entire family loves Chobani. Chobani Kids® and Chobani Tots® Greek Yogurt is exclusively designed to nourish the little ones with valuable nutrients for growing bodies. Featuring real fruits and real vegetables, Chobani Kids® and Chobani Tots® offer delicious lunch and snack time options parents can feel good about. Chobani Kids® and Chobani Tots® products include only natural and preservative-free ingredients, and feature live and active cultures – essential to digestive health.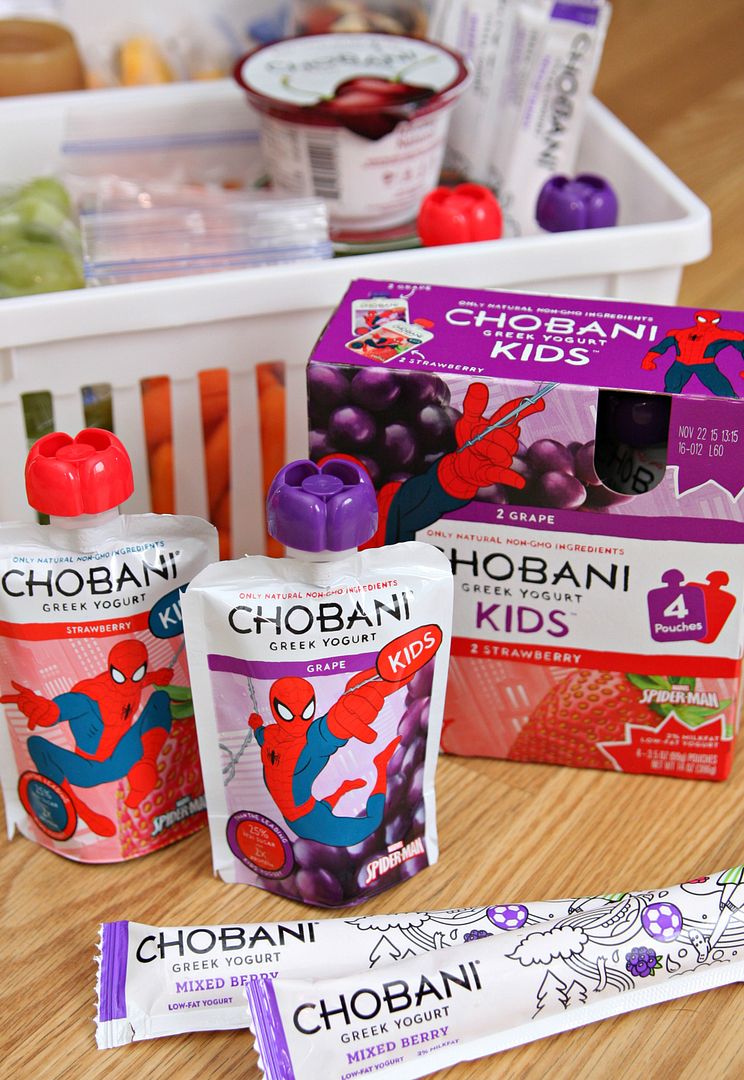 Fun facts about Chobani Kids® and Chobani Tots®
Contains real fruits and vegetables, and nothing artificial. That means only natural ingredients, no preservatives or artificial colors or flavors.
All contain less than 5% lactose, are gluten-free, and have live and active cultures and probiotics.
Chobani Tots® Greek Yogurt pouches are designed for babies beginning at six months.
Made with whole milk, Greek Yogurt Tots pouches provide 12mg of omega-3 DHA.
25% less sugar than the leading kid's yogurt and a good source of protein and calcium.
Packed with 2X the protein compared to the leading kids' yogurt*.
I love that they are available in tubes and pouches – no spoons required!
Chobani Kids® Pouches come in three flavorful varieties: Strawberry, Grape, and Vanilla & Chocolate Dust and feature Spider-Man and Doc McStuffins. Chobani Kids® Tubes are available in 4 flavors: Strawberry, Banana, Mixed Berry, and Watermelon.
Visit Chobani Kids Savings for coupons, coloring pages and more information about Chobani Kids.
Now Connor can quickly grab a healthy snack when he's hungry. The best part is he knows exactly where to find his snacks and he doesn't have to wait for me to make him something when he's hungry.
And I have a confession. This snack station has helped us all choose to eat healthier snacks. I've found myself making better snack choices because everything is ready and I can quickly grab something.
How do you make snack time easier and healthier?