This post and its photos may contain affiliate links. As an Amazon associate I earn from qualifying purchases. If you make a purchase through these links, I may receive a small commission at no extra cost to you.
Today I'm participating in a fun challenge hosted by Tina over at Moms Crazy Cooking.  Each month the challenge focuses on one feature food item.  This month it is chocolate chip cookies.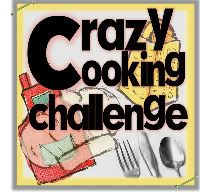 This fun challenge asks you to find a recipe from another blog, make it, and feature it.  I had so much fun looking for a fabulous new chocolate chip cookie recipe!
When I cam across Cook Bake & Decorate's recipe for peanut butter cookie cups I knew I had to make them for my husband.  This combines two of his favorite treats – chocolate chip cookies and Reece's peanut butter cups.
Cook Bake & Decorate's Chocolate Chip Cookie Recipe:
3/4 cup shortening
1 1/4 cup firmly packed light brown sugar
2 Tbsp. Milk
1 Tbsp. Vanilla
1 whole egg
1 3/4 cup all purpose flour
1 tsp. salt
3/4 tsp. baking soda
1 1/2 cup semi-sweet chocolate chips (I just dump in the whole bag)
Cream together the shortening and brown sugar till it is light and fluffy.  Beat in the milk, vanilla, and egg.  Next, stir in the flour, baking soda, and salt.  Stir till well combined.  Next slowly mix in the chocolate chips.
Spray mini-muffin tins with non-stick cooking spray.  Fill muffin cups with a spoon full of cookie dough.
Bake for 9-11 minutes. Remove from oven and immediately press one mini Reese's peanut butter cup into the center of each cookie.  Let cool in the pan for a few minutes, then remove and place on a wire rack to cool completely.
These were AMAZING!  And since my husband was coming home from his 6 week training course, it was the perfect little surprise for him.
Look at all the other fabulous chocolate chip recipes featured this month on the Crazy Cooking Challenge.  Don't they all look delicious?
We need your help voting for the best recipe.  "Like" your favorite recipe below and help us find the ultimate chocolate chip cookie recipe!