This post and its photos may contain affiliate links. As an Amazon associate I earn from qualifying purchases. If you make a purchase through these links, I may receive a small commission at no extra cost to you.
I'm so exciting to be participating in the second round of Get Your Chef On hosted by two fab ladies – Jen over at Four Marrs and One Venus and Julie over at White Lights on Wednesday.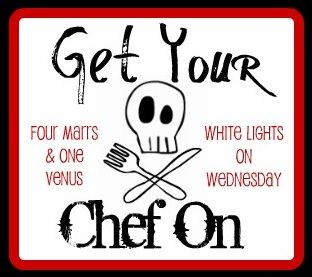 The secret ingredient is coconut and at first I was trying to find a dinner recipe that included coconut.  But then my super smart friend, Stephanie, suggested that I try to recreate my favorite Starbuck's drink, Iced Mocha Coconut.  And I couldn't believe I hadn't thought about that sooner!
So let's get right to it!!
Here's what you need:
8 ounces of brewed coffee
Chocolate syrup
1 tablespoon sugar – I like my coffee sweet but if you don't, I would leave this out.
Whipped Cream
Now for the secret ingredient – Edy's Creamy Coconut Fruit Bars
Brew your coffee.  I always get Folger's Colombian.
Pour about 2 tablespoons of chocolate syrup into your glass.
Pour about 8 ounces of coffee into your glass.
Now for the secret ingredient – Take one Edy's Creamy Coconut Fruit bar and just drop it into the glass.  Ok, don't just drop it.  Gently place in your glass.  It will quickly dissolve.
Add sugar if you want it sweeter.
Add ice cubes.  I personally don't like a lot of ice because I don't want it to get watered down.  I really need to make the coffee ice cubes:)
Add whipped cream, chocolate syrup, and coconut flakes to top if you want.
Enjoy!  I really think that it tastes just like the drink from Starbucks and I'm pretty picky when it comes to my coffee drinks.
I hope you try it for yourself then come back and tell me what you think.