This post and its photos may contain affiliate links. As an Amazon associate I earn from qualifying purchases. If you make a purchase through these links, I may receive a small commission at no extra cost to you.
This post brought to you by Glad & M&M'S®. The content and opinions expressed below are that of Happy Go Lucky.
Have you started your holiday baking yet?
Don't worry, I've got two delicious recipes for you today that are perfect for the holidays.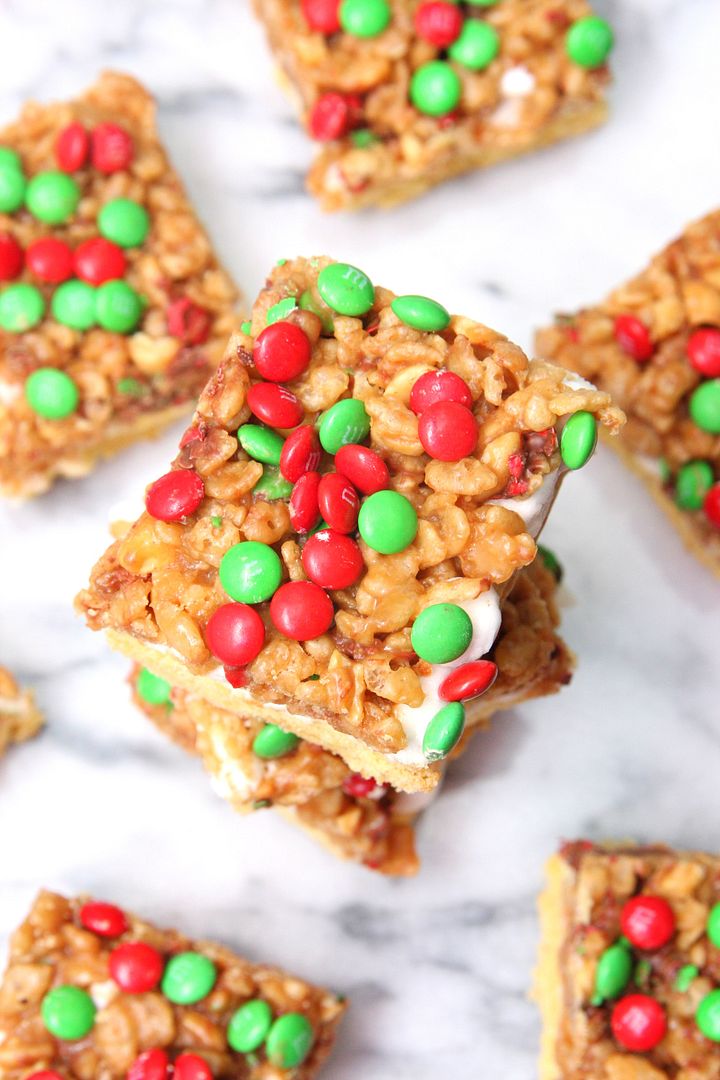 This weekend my friend is having her annual cookie exchange and I've decided to bring two different holiday treats.
First, these Holiday Payday Bars are amazing. The perfect combination of sweet and salty.
Can you ever go wrong with peanut butter, marshmallows, and M&M's?!
Ingredients:
1 stick of butter (softened)
1 package of yellow cake mix with pudding
1 egg
3 cups of miniature marshmallows
1/2 cup light corn syrup
1/4 cup sugar
1/4 cup packed brown sugar
1/2 cup creamy peanut butter
2 teaspoons vanilla
2 cups rice cereal
2 cups salted peanuts (chopped)
1 cup M&M's Mini's Baking Bites
Directions:
Step 1: Preheat oven to 350°F. Mix butter and cake mix in large bowl. Add egg and continue mixing.
Step 2: Spread dough into 9 x 13 baking pan and bake for 12-15 minutes. Remove from oven and add marshmallows to top of cake. Place back in oven for 3 minutes.
Step 3: Combine corn syrup, sugar, and brown sugar to saucepan. Cook over medium heat, stirring until it starts to boil (about 3-4 minutes). Remove from heat and stir in peanut butter and vanilla. Stir in cereal, peanuts and m&m's. Spread over marshmallows and crust.
Step 4: Cool completely. Cut and enjoy!
Next, I made Black and White Peppermint Brownies with Mint M&M's.  I can't get enough of the mint M&M's.  I could eat the entire bag.
Ingredients:
1 package of sugar cookie mix
1 package of brownie mix
1 cup semi-sweet chocolate chips
1/4 tsp. mint extract
1 cup white chocolate chips
1/2 cup Holiday sprinkles
1 package M&M'S® White Chocolate Peppermint candies—exclusively available at Target
Directions:
Step 1: Preheat oven to 350 degrees.
Step 2: Prepare sugar cookie mix according to package directions and press into bottom of 9×13 inch pan.
Step 3: Prepare brownie mix according to package directions and add mint extract. Pour over sugar cookie layer. Sprinkle with chocolate chips.
Step 4: Bake at 350 degrees for 25-30 minutes. Cool.
Step 5: Melt white chocolate chips per package directions and drizzle white chocolate over bar cookies.
Step 6: Sprinkle with sprinkles and Holiday M&M'S® candies.
Step 7: Allow drizzle to harden. Slice brownies and serve.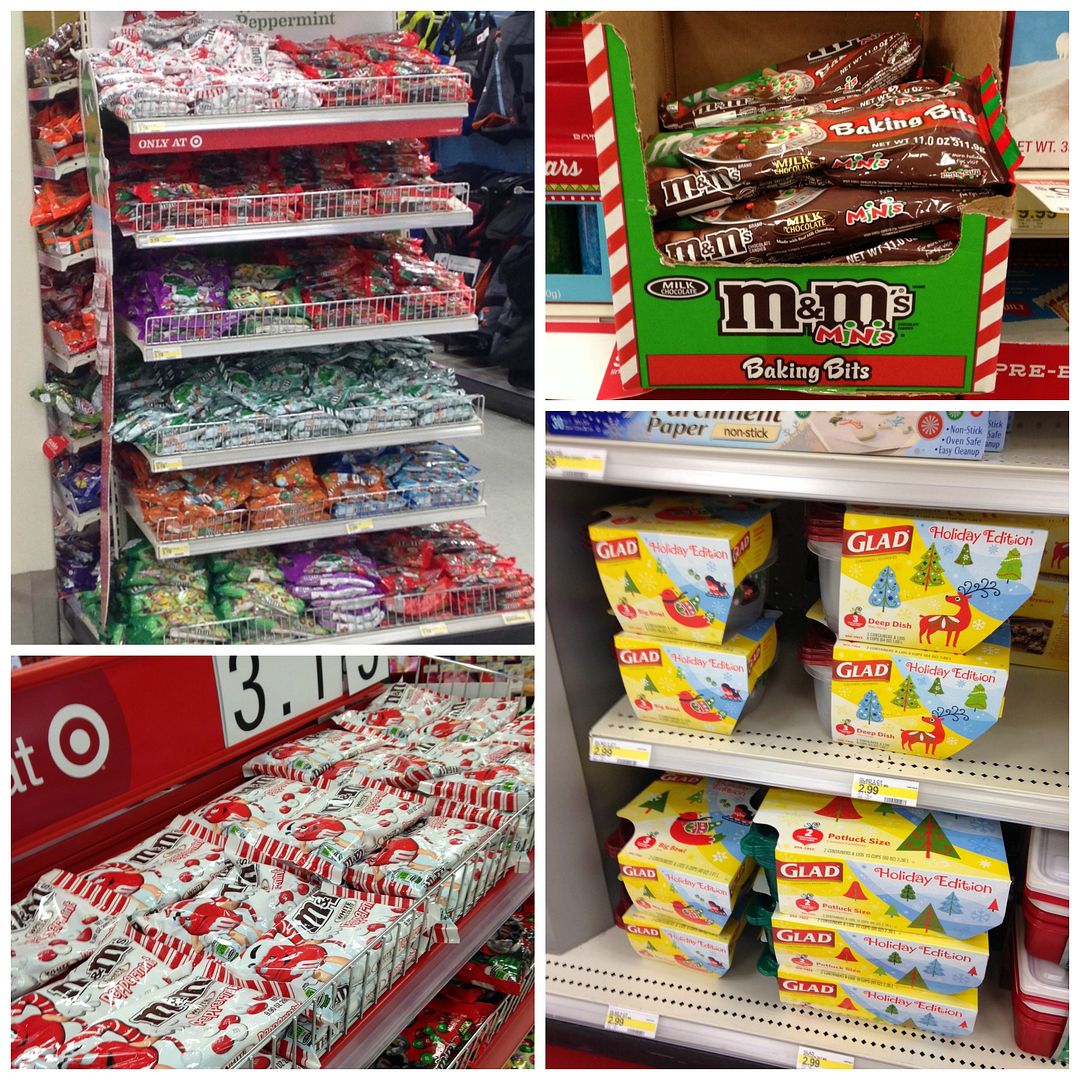 I actually found this recipe on the back of the Glad containers I found at Target. I needed containers for the cookie exchange. I love how the Glad containers have a holiday design on them. I also picked up the Peppermint M&M's and M&M's Mini Baking Bites in the Holiday section at my local Target. Oh how I love Target! I think I've been 3 times this week and don't forget to use your Cartwheel app.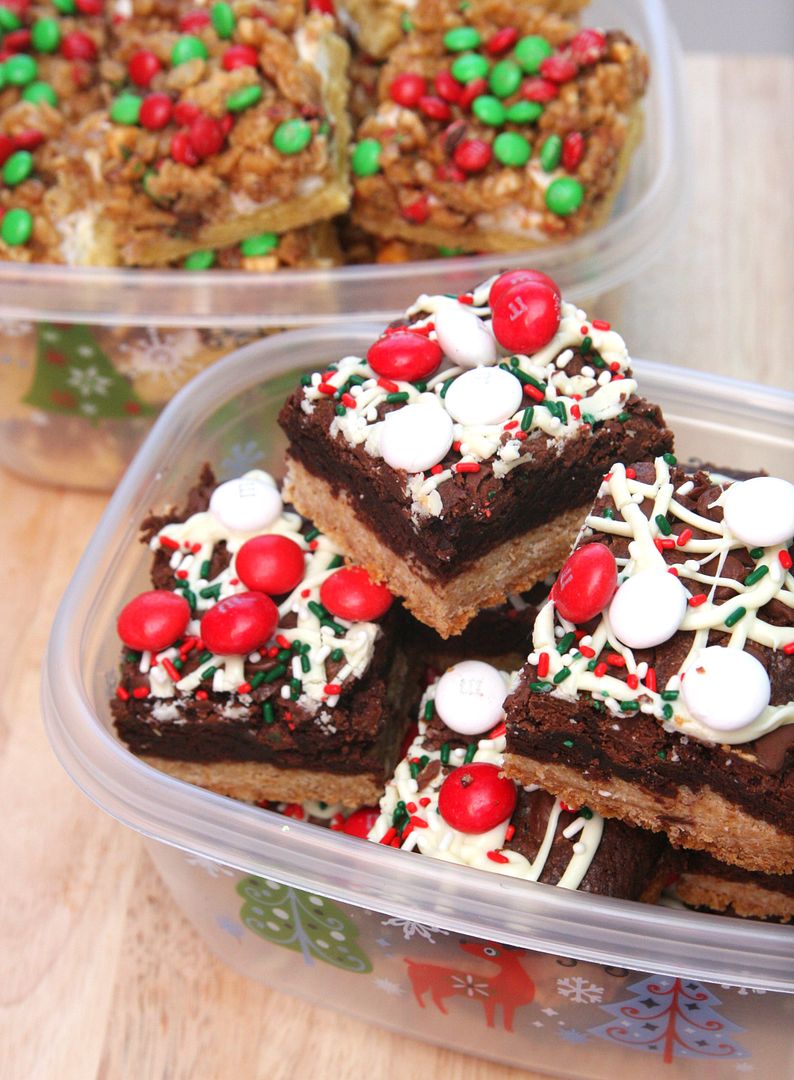 Look how good my desserts look in the Glad storage containers. Now I'm all ready for the cookie exchange!
What holiday sweet treats are you making this year?