DIY Entryway Shelf with Coat Rack
This post and its photos may contain affiliate links. As an Amazon associate I earn from qualifying purchases. If you make a purchase through these links, I may receive a small commission at no extra cost to you.
Want to organize your entryway?  This DIY Entryway Shelf with Coat Rack is the perfect solution to get your entryway organized.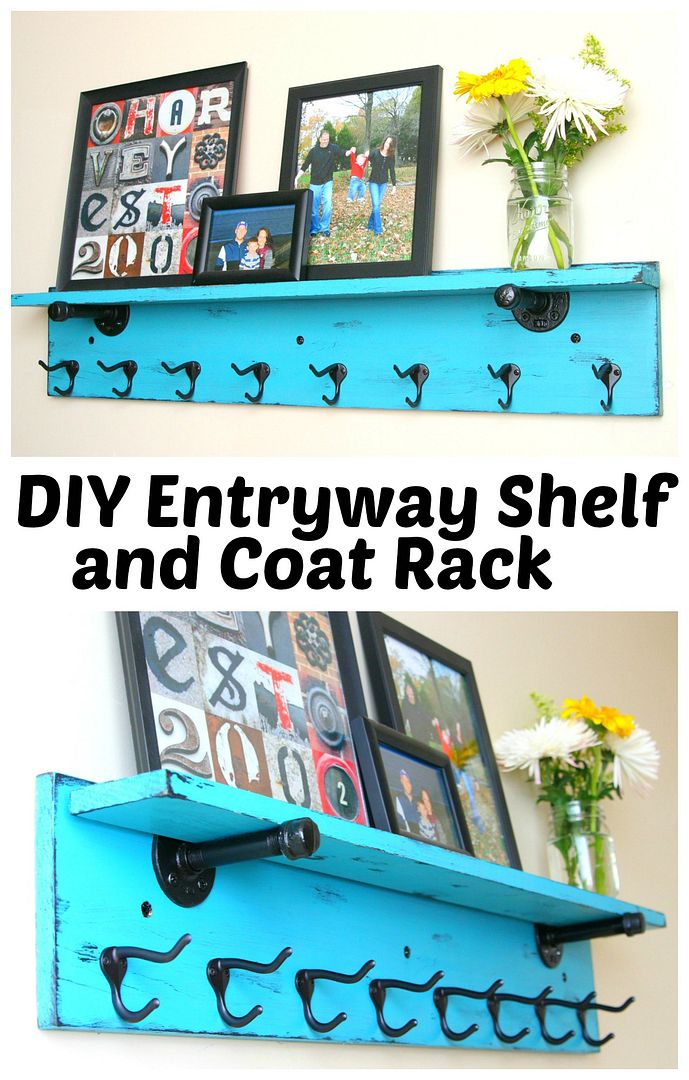 I'm so excited about today's project!
I had a coat rack in our entry way but it was small and boring so I decided we needed something bigger and better.  I wanted a coat rack with a shelf and I must admit – this DIY project turned out better than I ever could have pictured it in my head.  This Entryway Shelf and Coat Rack was easy to make and only took a few hours.  The longest part is always waiting for the paint to dry between steps.
I fell in love with these floating shelves by Seventh House on the Left.  They used pipes to make the shelves float on the wall so I I thought it would be fun to add that kind of shelf to a coat rack.
I headed to the hardware store to gather my supplies.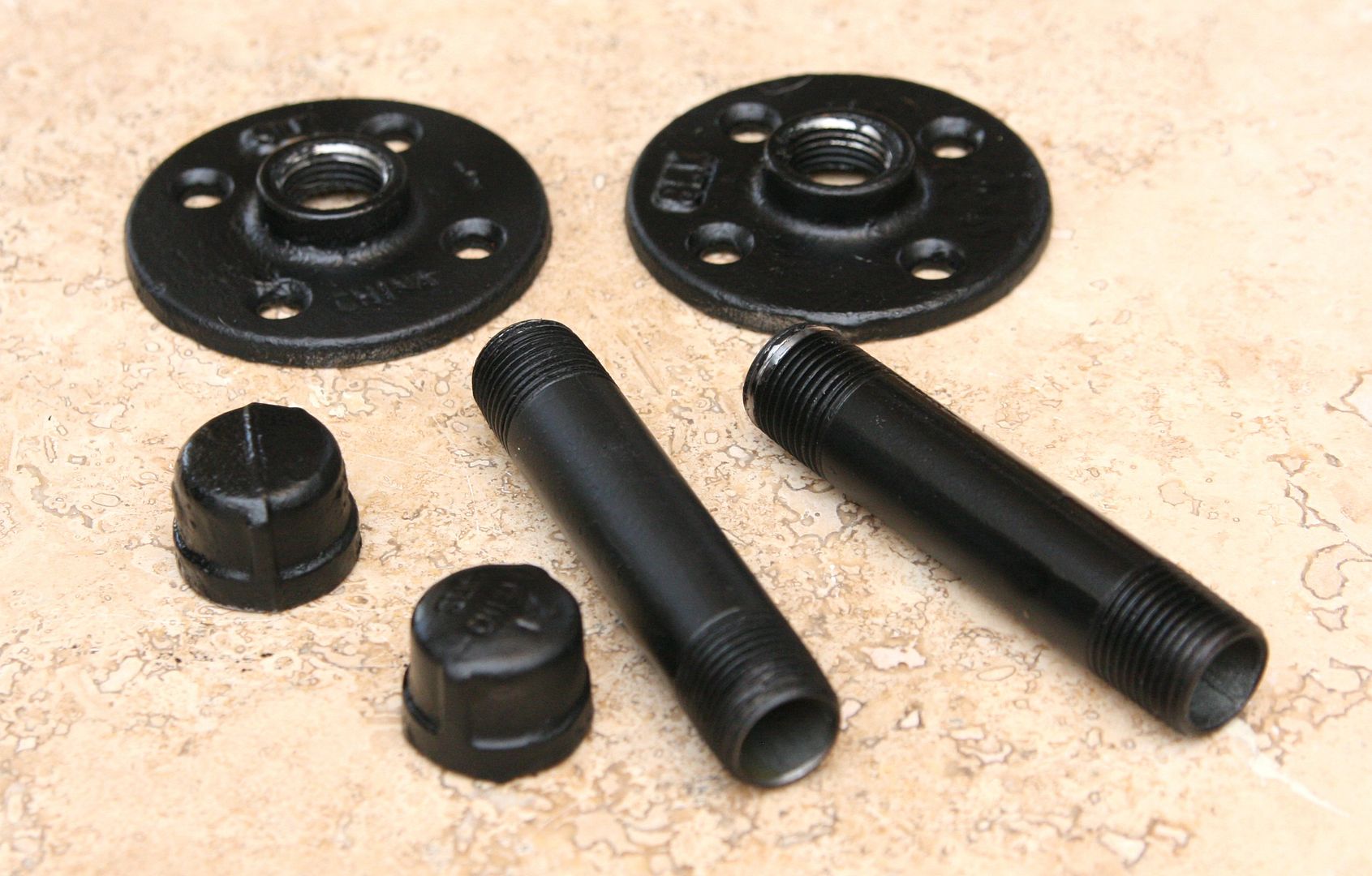 I started in the plumbing section to see the different size pipes that were available.  I ended up purchasing 2 half inch iron floor flanges, 2 – 4 inch pipes that were 1/2 inch wide and 2 half inch end caps.  When I got home, I spray painted all the pieces black.
Then, I had the handyman at the hardware store cut a 1×8 and a 1×4 so they were each 40 inches long.
Now for the fun part!
Lightly sand each piece of wood and paint black.  When that was dry, I added vaseline to the edges of the wood and in random sections along the board.  This is the key to creating the distressed look.  I painted the entire board the gorgeous turquoise color and when it was dry, I lightly sanded the entire board.  The vaseline is the key to giving it a distressed look.  The turquoise paint comes off as you sand wherever you rubbed the vaseline.  Isn't it gorgeous?  This is my new favorite way to distress wood.
Once all that was dry and ready, I used my drill and ProBond Advanced glue to attach the hooks and pipe brackets to the 1×8.
I spaced the hooks out evenly.  They are each 5 inches apart leaving 2.5 inches at the end.  I glued them to the board and then drilled each one in.
I wanted everything to be super sturdy!
Then I was ready to hang it on the wall.  I drilled 3 holes so I could attach it to the wall.  I was going to cover the screws with wood plugs but decided to just paint the screws black.  I first drilled small holes in the wood and then used countersink drill bit so the screws would be flush.
Now for my second favor part of the project – attaching the shelf!  Add a little ProBond Advanced glue to the top of each pipe bracket and place the shelf on top.  Let that dry and you are ready to start using your new coat rack.
I can not tell you how happy I am with my new Entryway Shelf and Coat Rack.  It makes such a impact on the entryway and is gorgeous to look at!  I can't stop looking at it.
Here is a list of all the materials I used for this project:
1×8 cut to 40 inches
1×4 cut to 40 inches
2 floor flanges
2 4 inch pipes (1/2 inch wide)
2 end capes (1/2 inch)
black spray paint
8 hooks
ProBond Advanced
I really hope I've inspired you to create your own Entryway Shelf and Coat Rack and I highly recommend tyring out the new ProBond Advanced.  It is the perfect multi-surface adhesive for bonding Mixed Materials, like wood to metal or ceramic to drywall.  It dries fast and completely clear so it is awesome for all my DIY projects I have going on all the time.