Crock Pot Chicken Noodle Soup with Veggies
This post and its photos may contain affiliate links. As an Amazon associate I earn from qualifying purchases. If you make a purchase through these links, I may receive a small commission at no extra cost to you.
It's time for another round of the Crazy Cooking Challenge.  This month's challenge was to make chicken noodle Soup.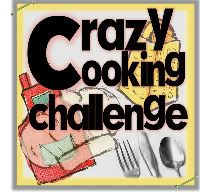 I started searching for crock pot chicken noodle soup recipes and was super excited when I came across Kar's recipe at Shimmy-Worth Recipes.  It looked easy and I loved that it called for more vegetables than other recipes I had seen.  Plus, it didn't require a lot of ingredients.
Crock Pot Chicken Noodle Soup with Veggies
4 cups chicken – cooked and cut up into small pieces
20 oz. frozen mixed vegetables
1 onion, chopped
10 chicken bouillon cubes
1 tsp. salt
1/2 tsp. pepper
12 cups water
1 1/2 cups egg noodles
Put all ingredients in the crock pot except the noodles. Add those the last hour to hour and a half of your cooking time.
I cooked mine in the crock pot on low for about 7 hours.
This was a perfect for dinner to serve on a cold January night!
Pin It