This post and its photos may contain affiliate links. As an Amazon associate I earn from qualifying purchases. If you make a purchase through these links, I may receive a small commission at no extra cost to you.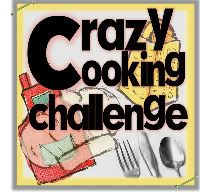 This month's Crazy Cooking Challenge was to make chocolate cake.
And who needs an excuse to make chocolate cake?!
I certainly don't!!
So I quickly started searching for the best chocolate cake recipe.  As I searched, I came across a fun cake recipe
here
that called for melted ice cream.
I was immediately intrigued and knew I had to try it.
box of chocolate fudge cake mix
2 cups melted vanilla ice cream
3 eggs
1 cup water
All you do is mix everything together and bake according to the directions on the box of cake mix.  I baked mine at 350 degrees for 20 minutes.
The best part about this is that you can combine any cake mix and ice cream flavor together.  I think I'm going to try coffee ice cream next.
After icing it with my favorite chocolate buttercream icing,  I had a deliciously, moist chocolate cake!!  And I used my heart cake pan for Valentine's Day:)
So what do you think?  Are you just as tempted as I was so try using melted ice cream as an ingredient when you cook your next cake?
I have a feeling you all are going to be craving chocolate after today's post.  I can't wait to see all the other chocolate cake recipes linked up to this month's Crazy Cooking Challenge.