This post and its photos may contain affiliate links. As an Amazon associate I earn from qualifying purchases. If you make a purchase through these links, I may receive a small commission at no extra cost to you.
Turn a simple jar into a Hand Sanitizer Teacher Gift in less than 15 minute with this fun Craft Lighting Back-to-School project.
I came across these adorable jars in the dollar section of Target and immediately had to put them in my cart.  Not only are they super cute, but I knew I could use them for something.  Then, it hit me – every teacher needs hand sanitizer on their desk so I turned these fun school themed jars into a fabulous hand sanitizer dispenser.
I know I say this a lot but this is my new favorite project.  This project combines a few of my favorite things – it's quick and easy, it includes items from the Dollar Spot at Target and it's a great teacher gift.  What's not to love about all that?!
Supplies needed:
School themed mason jars
Mason Jar Pump
Mason jar bands
Spray paint
Hand Sanitizer
Directions:
Spray paint the mason jar bands and the lid of the pump to match the school themed jar.  This is optional.  You can keep it silver to make it even easier.
Add hand sanitizer to jar.
Put mason jar pump together and add to jar.
Oh my goodness, how easy was that?  Every teacher needs one of these on their desk!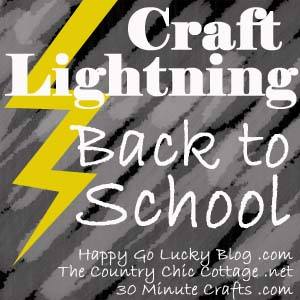 And, I have more lighting fast Back-to-School craft projects for you that I know you're going to love.
Personalized Baseball Composition Notebook
Stenciled and Stamped Lunch Bags
So many fabulous Back-to-School craft projects!  Have we inspired you to get your back-to-school crafting on?