This post and its photos may contain affiliate links. As an Amazon associate I earn from qualifying purchases. If you make a purchase through these links, I may receive a small commission at no extra cost to you.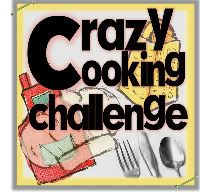 This month's Crazy Cooking Challenge was to find a delicious Blueberry Muffin recipe. I found a great recipe for Coffee Cake Muffins and added blueberries and strawberries.
Recipe adapted from Sweet Pea's Kitchen
Blueberry Strawberry Coffee Cake Muffins
2 1/2 cups all purpose flour
1/2 teaspoon baking soda
1 1/4 teaspoon baking soda
1/2 teaspoon salt
1/2 cup plus 2 tablespoons butter at room temperature
1 cup sugar
3 eggs
1 1/2 teaspoon vanilla extract
1 1/4 cup yogurt (original recipe calls for sour cream)
3/4 cup blueberries
3/4 cup diced strawberries
For the Streusel Topping:
2 cups all purpose flour
3/4 cup brown sugar
1 tablespoon cinnamon
3/4 teaspoon salt
1/2 cup butter at room temperature
For the Glaze:
1 1/2 cups confectioners sugar
3 tablespoons milk (I used my sweet cream coffee creamer)
Directions:
For streusel topping, mix all ingredients in a bowl and mix with a fork until butter is in small pieces.
Preheat oven to 350 degrees. Line muffin cups with liners. Mix dry ingredients in bowl and whisk together. In a seperate bowl, cream together butter and sugar until fluffy. Beat in eggs. Then stir in vanilla, flour mixture and yogurt. Lastly, add blueberries and strawberries. Spoon into muffin cups. Sprinkle strudel topping over each cup.
Bake for 20 minutes
For glaze, whisk powdered sugar and milk together in small bowl.
Remove muffins from oven and drizzle with glaze.
Enjoy!! I love everything about these muffins!!