A friend of mine told me about an awesome website. It's called tagxedo and it creates word art. It is similar to wordle, except you can save it to your computer. It will also put the words into different shapes like a heart, train, four-leaf clover, etc. It is a really neat website to play around on. There are so many fonts, colors, and shapes to choose from.
So, as we were having a lazy family movie day, I decided to play around with tagxedo and create one using words, events, and memories of 2010.
This is what I came up with: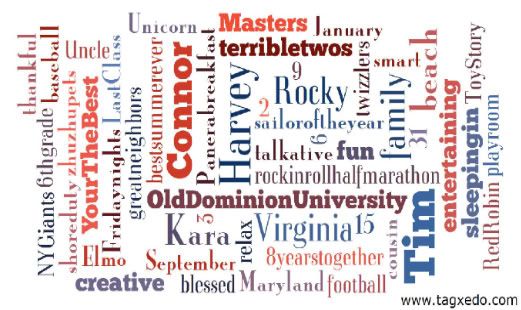 If you are looking for a simple way to make subway art or just want to play around with some word art, check it out for yourself. It makes it super easy. I do recommend saving it as 1 mp and then I just uploaded it to photobucket. I think there is a way to get the html code directly from tagxedo but my macbook was acting up.
Have fun creating your own! Comment with your blog post if you create one. I'd love to see what you come up with.